Pearl Morissette and their living wines
Rain, in January, this is so crazy! But it could be worse, cause I see something good coming. I had the privilege, on that grey day, to meet at the vineyard François Morissette. François is the man behing the wines of Pearl Morissette, pioneer in living wines making in Niagara.
I had many times Pearl Morissette wines in my glass. Following my passion, I want to meet the person behind the wine I'm having and I want to meet them. I know that after these meetings the wines taste sometimes even better as I understand them differently cause I can get the vision that led to them and why they were made that way.
I first saw François at the Raspipav event, a wine show on private import products in Montréal. I promised him that I would come by the winery and visit him. I was there, on his field of work and he's making all these wine come true. I wanted Pearl Morissette living wines!
Visit of the winery, with the Winemaker
While drinking François words, his vision came to me; his desire to make good wine while not interfering with this 'natural' evolution. He uses many types of container to age his wines, but all in a way to let the soil, the vines and finally the wines to express themselves.
Understanding the climate, the soil, the vines then the resulting wines are not an easy task. Many experiences were made and makers were identified from vintage to vintage, then creativity could be expressed properly without endangering the results. Science does have its role here and that's what creates those useful markers or requiered data to monitor the wines as they evolve to become the wines that we'll drink. That's why he can make wines that are clean while vibrant and alive while not shadowing the their true originality.
One thing is clear for François is that any kind of intervention, even when you don't, have effects on the final product. He don't beleive then in the "let everything go natural wine" principle. The primary matter is transformed and shaped by these decisions and manipulations. That's why understanding the results of any actions made on the wine, as minimalist they are, is critical as it can overcome his vision on how he want his wines to be… That's exactly why he doesn't like the "natural" wine thing as it doesn't mean anything and doesn't offer the warranty that the fruit itself will be good prior to the winemaking process.
His experience acquiered while working at the best wineries of Burgundy is then useful. This allows him to master the classical grape varieties with which he's working while still being creative.
Under the charm of the place, the man and the wines!
To face the rising demand for his wines, the risk coming from the weather and the various conditions of each vintage, he buys grapes from other producers of the area. He makes sure to get fruits that are farmed with the same vision as his, on how they're growned and how the vines are taken care of.
While touring the place and talking, we did taste many wines, all from the 2015 and 2016 vintages that are still under ageing process. We had both wines from his vineyards and from bought fruits. Sample were took of stainless tanks, egg shaped and regular concrete tanks, then from barrels of different ages and even from old Alsacian casks of 50 years+ !
We had Rieslings made dry so vibrant, refreshing and so deep (especially the Cuvée Black Ball – see the story between him and the VQA system behind this wine). Then very fine Pinot Noir and even a "en primeur" fruit foward one made to drink young and on its primary fruit profile. Impressive Chardonnays with amazing texture, having the core to support oak ageing, Cabernet Franc so tasty and Gamay wines that have everythin to please the writer of these lines. Not to forget or let behind is their orange wine made of Chardonnay, Pinot Gris and Riesling that spent 3 months on the skin. To end that tasting, a "Solera" type of wine from a cask that see it filled with remaining juice François have or from what's left in barrels after bottleing. This wine, made from all type of grapes is blended with juice going back to the 2008 vintage, is so complex and stunning. This one is François's study coming from his appreciation of Xeres wine. We can only hope that it'll be bottled one day…
I was so pleased with this visit and tasting.
Can't wait to be back there to meet again that epressive, creative and such a nice man. It would also be a great opportunity to visit all the installation as they have all kind of animal on their farm and this place is just so beautiful that just looking at it will make the next visit worthy.
I also can't wait to talk about his other project, a vineyard he's working on in Calfornia in the Sonoma valley! But this is another story / blog post. If you're interested of learning more on these new wines, you can still order them through the Courrier Vinicole from the SAQ…
Pearl Morissette's website : pearlmorissette.com
They are represented in Québec by La QV : laqv.ca
Now, what are we drinking?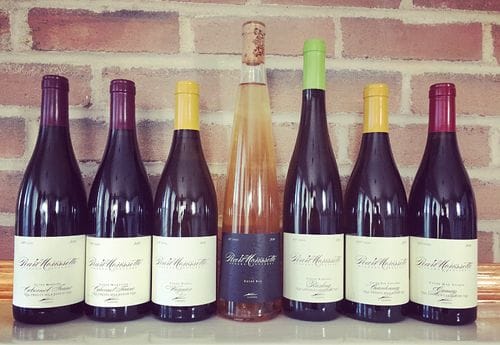 https://dansmonverre.ca/wp-content/uploads/2017/02/Pearl-Morissette.jpg
500
500
dansmonverre
https://dansmonverre.ca/wp-content/uploads/2015/01/trans-bordeaux_340.jpg
dansmonverre
2017-02-20 08:00:36
2017-02-20 08:00:36
Pearl Morissette and their living wines