PEC vineyard visit may 2016 – Grange of Prince Edward Vineyards and Estate Winery
We are finallly back in this beautiful place in the County. It's beautiful outside, the sun slowly taking away the cool spring feel to a warmer and appreciated weather. Nature is blooming with the leafs opening up on the vines, the cherry tree showing its flowers and the place is looking exactly the same as last year at our first visit here.
Since a little more than a year now, I've been enjoying wine from this Estate located in the beautiful region of Prince Edward County in Ontario. I also had the opportunity to meet Maggie, the winemaker, a few time at local events and to talk about the wine she's making and the vision behind them, giving these wines their style.
Now entering the main building, a 200 years old barn, all made from wood and still supported by its original rock foundation. Did I say that I like this place? We then head to the tasting bar to tour their recent wine release available here or at the LCBO and for some of them through private import here in Québec. The kind and friendly Duarte will drive our tasting with punctual precisions brought by Maggie.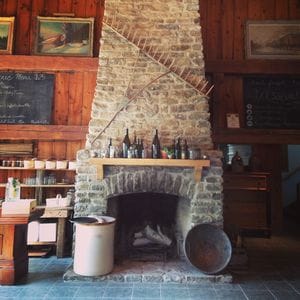 The fireplace in the main room
The wines: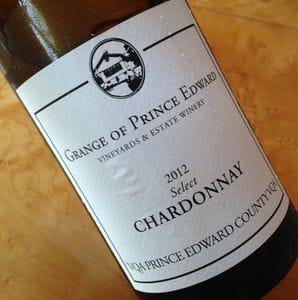 Unoaked Chardonnay 2012, VQA Prince Edward County
Light yeast note on the nose, then it's pure fruit that shows up, with minerality and a round mouthfeel so inviting that a sip calls for an other one to quench our thirst.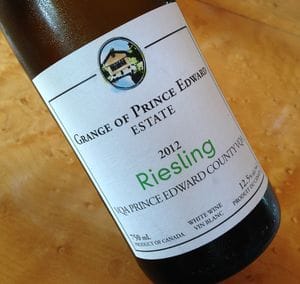 Riesling Estate 2013, VQA Prince Edward County
Typical Riesling aromas on the nose. Flavors of spicy fruits, lime, litchi,a touch of citrus fruit with a bitting and slightly bitter acidity on the finish, quite long for this level of wine – I like that!
Riesling Select 2014, VQA Prince Edward County (pulled out of the tank for this tasting)
Tart fruit flavors, more round, the minerality of the wine really shows more and I can't get out of my head the likeness with the Sweetarts candy (tart and acidic hard candy)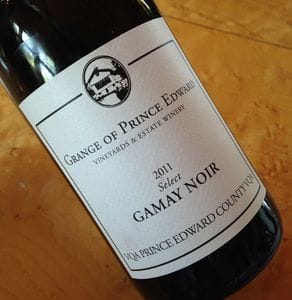 Gamay Select 2011, VQA Prince Edward County
I especially like the Gamay from this Estate and this one is on par with that appreciation! Nose and palate of red berries, earth, a mineral and rocky feel with a good acidity level. We had a bottle there at lunch, ouside infront of the vineyard, plus with brought some home with us!
Bunny Label Blend 2012, VQA Prince Edward County
This wine feels like a warm strawberry field under the sun, it's good, juicy and lightly spiced. Only available in magnums bottles, only two barrels were produced and the blend is equal part of Gamay and Pinot Noir. The 2014 will see 10 barrels be bottled and the wine will be offered in magnums as long as regular bottle size. Will Maggie be drawing a bunny on each bottle as she is doing now? Will see!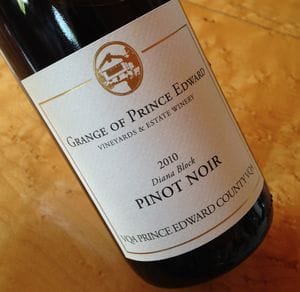 Diana Block Pinot Noir 2010, VQA Prince Edward County
The vineyard for this wine is just behind the barn and are 15 years old. Aromas and flavors of small and smoked berries with still some oak showing from the ageing, but less present than a year ago, have a good acidity level with a long and spicy finish. This wine is slowly taking place, but will take 2-3 more years to come around to be ready.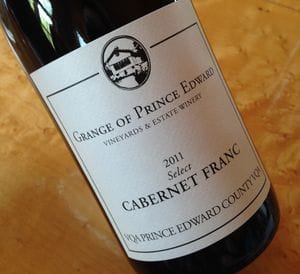 Cabernet Franc Select 2011, VQA Prince Edward County
Explosive fruit flavors paired with light oak notes, stays fresh and so yummy in a more classic Cab Franc style.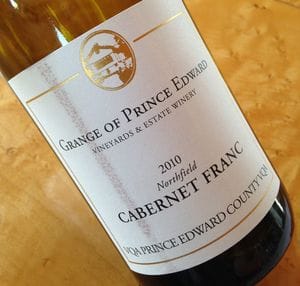 Cabernet Franc Northfield 2010, VQA Prince Edward County
Dark berry nose with spices and some oak. I like that nose. Very long on the palate with similar flavors of what was on the nose with this light green twist well integrated and typical of this grape variety, which I like. A serious wine.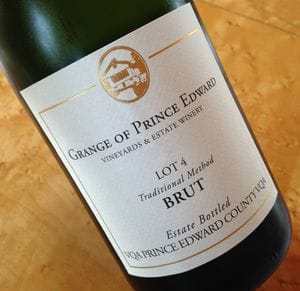 Traditional Method Brut Lot 4 2010 (not sold yet), VQA Prince Edward County
Made of 65% Pinot Noir and 35% Chardonnay, aged on lees for 30 months. Light gold color with sweet flavos of lemon,peach, cream and brioche bread, with a mineral finish and a soft and velvety mouthfeel. Really beautiful bubbly!
Following the tasting, we went to the barrel room. As pretty as everything fromhere, this place is gorgeous! It's cool and I really liked the view of all those barrels…About having a lunch now?
Grange of Prince Edward offers lunch baskets with local produce to eat outsaid of the barn and enjoy the view. The perfect place to have a lunch! Armed with cheese, meat, bread and a bottle of Gamay bought only few minutes before, we did had a great time there between friends while looking at the kids having fun too!
We always feels some regrets to leave a place like this and the people as sweet as the ones there. Can't wait to meet again Maggie and Duarte at an event here in Montréal or who knows, maybe sooner than later at the winery! We're planning to go back there every spring as a futur "classic" family trip, and of course, Grange of Prince Edward will have a special place in that trip!
Let's open a bottle of wine from Grange of Prince Edward to remember these good times!
Grange's website: grangeofprinceedward.com
Bambara Sélection is representing them in Québec: bambaraselection.com
https://dansmonverre.ca/wp-content/uploads/2016/06/IMG_1331.jpg
494
500
dansmonverre
https://dansmonverre.ca/wp-content/uploads/2015/01/trans-bordeaux_340.jpg
dansmonverre
2016-06-11 07:35:48
2016-06-11 07:35:48
PEC vineyard visit may 2016 - Grange of Prince Edward