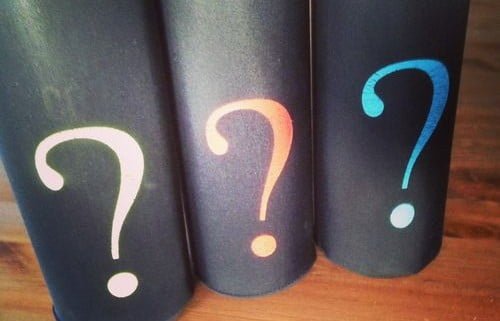 Blind tasting – december 2015
In the wine business, there is a common way to taste wine and it's called blind tasting. This way of having wine consist of tasting wine without knowing its name or origin. The results can often be unexpected, but the main reason why I like to taste wine blindly is that I have reference while tasting it, so anything can happen, even mistakes on which wine it is! It is then judge only on this moment perceptions. The truth is in the glass…
It is a fact that perceptions or feelings can change in regards of the moment of the day, where we are, the people we're with or even if we're tired or not. Despite all this, I still think that blind tasting is the best way to be objective on a wine while tasting it.
The most popular tasting ever done is probably the "Judgment of Paris" in 1976 where some of the greatest French wines battled California wines. Everyone there had the conviction that the French wines would win easily, but that was not the case! To learn more about this tasting, here is an article on Wikipedia.
Ok, let's talk about wine, the whole reason for this article being giving you the results of a tasting I did with "neophyte" tasters, my friends! I had invited them at home for a supper (and to let our kids to play together) and to taste some wines!
At the beginning I didn't gave then any information about the wines they were having neither their origins nor their price. The goal was to get their impressions of the wines. I did afterward gave away the country then the prices. After that they guessed which wine each one was before giving the answers.
Here is what was poured: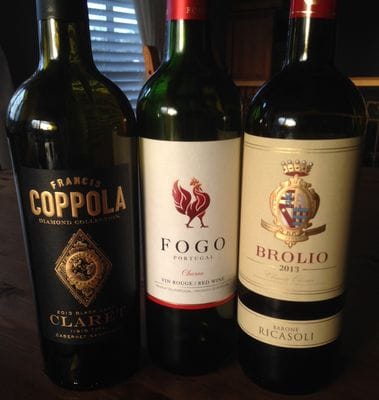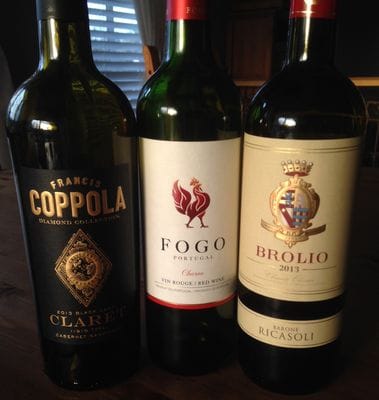 Francis Coppola Diamond Collection Black Label Claret Cabernet-Sauvignon 2013 (26,95$, Code SAQ : 00863654)
Fogo Portugal (only available in grocery stores for 10,19$)
Barone Ricasoli Brolio Chianti-Classico 2013 (24,95$ Code SAQ : 00003962)
I did not made any « official » grid to gather all the scores, but off the results, one thing is sure, everyone had the grocery store wine right. The surprise came from the swap over the Chianti and the California wine.
Here are some comments on the wines :
Francis Coppola Diamond Collection Black Label Claret Cabernet-Sauvignon 2013
Dark color. Nose of cherries, dark berries and smoke. Easy going on the palate with fruit flavors, sweet spices and a proper acidity level. At first it was the most interesting wine out of the bunch, not being too charming or easy, but after an hour or so, its origin showed more with notes of brown sugar and sweet fruit flavors. Very good (89)
Light ruby color. Nose and palate of sweetened red fruits. A little too easy, short, but in the end not bad and was not crushed by the other wines, even if it didn't stepped away… Good (87)
Barone Ricasoli Brolio Chianti-Classico 2013 
Clear ruby color. Initially green, very spicy and a little harsh, air did brought classical notes of berries, earth and even some flowers. Long and tasty finish. Showed best almost 4 hours after the bottle opening. This could age and to be enjoyed from now, it has to be put into a decanter for a minimum of an hour, maybe two, since I really liked the last glass from the bottle. Will taste it again with the proper treatment. Very good+ (90)
Everyone liked this tasting game and I will host more of them with other type of wines sooner than later !
Thanks to Société de Vins Fins,  Trialto and my friend Roxane for the bottles of this tasting
https://dansmonverre.ca/wp-content/uploads/2016/01/Dégustation-à-laveugle-décembre-2015.jpg
500
500
dansmonverre
https://dansmonverre.ca/wp-content/uploads/2015/01/trans-bordeaux_340.jpg
dansmonverre
2016-01-18 22:30:17
2016-01-18 22:30:17
Blind tasting