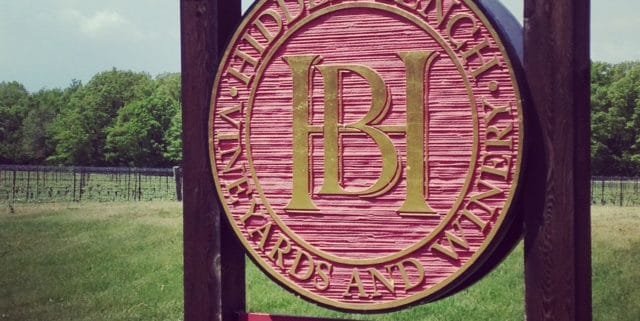 Visit at Hidden Bench
Back from a "day job" assignment in Niagara region and having some free time ahead. Why not stop and visit a winery since I couldn't be in a better place for that, especially at that moment, a beautiful and sunny day! With the goal of trying a new place, I reached a friend who knows his way around and he comes back to me with this suggestion: Hidden Bench.
Located in the Lincoln / Beamsville area, the place is charming, pretty and surrounded with peach tree. With Pinot Noir vines all around, the stone and wood building of the winery are also giving that welcoming and warm feeling.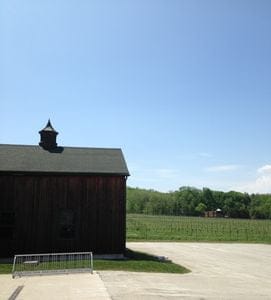 And it does not stop there, despice the work that is going on there (it will be even prettier this summer or shoud be by now, since the welcome also came from the people there. It followed with a discussion with Mike for what type of tasting I was aiming at (I described him my wine tastes and he selected perfect matching wines!), and then I had to work!
Having about 100 acres of lad, close to 84 have vines on it. The first ones were planted in 1977 which is pretty soon for this young wine region. They have many grapes varieties as the classic Pinot Noir (about half the production here) and Chardonnay, Riesling often good coming from the area and even Bordeau type vines inluding Malbec of which they are the largest producer of Ontario.
And now, what about the wines? Here is my notes on what I have tasted there:
Hidden Bench Vineyards & Winery Roman's Block Riesling Beamsville Bench VQA 2013 
When I said what type of Riesling I like, Mike proposed me this one, made of the older vines of the house. Nose and palate of green apples, lime, good minerality and somehow rich, but balanced with a tangy acidity and slightly bitter which makes me like the wine even more. And the finish is so long!
Lorsque j'ai décrit ce que j'aime d'un Riesling, Mike m'a proposé ce vin, tiré de vignes parmi les plus vieilles du domaine. Arômes et saveurs de pommes vertes, de lime, bWhenien minéral avec une certaine richesse, mais c'est surtout cette acidité légèrement amère, surette que j'aime tant qui me fait apprécier ce vin. Et que dire de la longue finale!
Does have 10g of residual sugar and an alcohol level of 11%. It's a beautiful crafted wine, so tasty. Sold only at the Winery.
Hidden Bench Vineyards & Winery Chardonnay "Estate" Beamsville Bench VQA 2013 
Typical cool climate Chardonnay feel with a well balance oak and pear, butter notes, quite complex, especially on the palate without being heavy or overly deep.
Aged 10 months in oak barrels and an alcohol level of 13%
Available at the SAQ for 31,25$ (Code SAQ : 12583047)
Hidden Bench Vineyards & Winery Pinot Noir "Estate" Non Filtré / Unfiltered Beamsville Bench VQA 2013 
This smelled so good! Perfumed, fresh, pure, loaded of small red berry notes on the nose, then a fruit explosion on the palate and mineral layers. Then the spices kicks in as long with wild berries and a light bitterness on the finish that gives even more satisfaction with this wine.
Aged 12 months in French oak barrels, 20% being new. Alcohol level of 12,7%
Available at the SAQ for 35,25$ (Code SAQ : 12582984)
Hidden Bench Vineyards & Winery Terroir Caché Beamsville Bench VQA 2012 
And then came this Bordeau blend type wine. Deep color with smoke and spices coming from the Merlot grape as it is for a good proportion in the blend. Aromas and flavors of black berries, coffee, noble greens (when it is balanced like that, I find that it adds to the wine instead of ruining it…). Mouth coating with a very long finish. Might feel of seems too wide of overwhelming, but it's so young! This should age even if is approchable with some air.
Made of Merlot (46%), Cabernet Franc (25%), Cabernet-Sauvignon (16%) and Malbec (13%). Aed 21 months in aok barrels. Alcohol level of 13,9%
The 2011 vintage is available at the SAQ for 39,50$ (Code SAQ : 12306411)
Did I liked it? Of course! Don't be surprise as I will post more notes on wines from Hidden Bench in the following months. I even hope that I'll have the opportunity to go back visit the winery in a futur trip in Niagara. Do the same!
Thanks again to Sean for the suggestion and Mike for the tasting, his precise choices regarding my tastes and the time he took explaining me how things are at Hidden Bench.
One more flower for the type of glasses they use, Spiegelau Pure series, even for the water glass and that each tasting station have its own spittoon. It makes the experience even better with this additions.
Hidden Bench website: hiddenbench.com
Maitre de Chai is the agency representing Hidden Bench in Québec: maitredechai.ca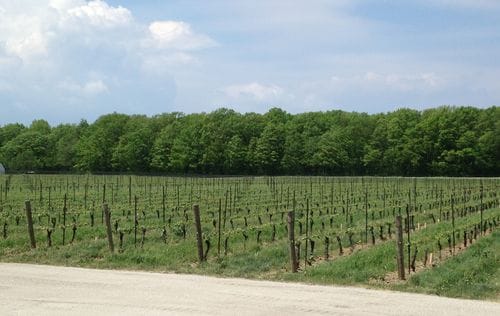 https://dansmonverre.ca/wp-content/uploads/2016/06/image.jpeg
640
640
dansmonverre
https://dansmonverre.ca/wp-content/uploads/2015/01/trans-bordeaux_340.jpg
dansmonverre
2016-06-25 07:20:48
2017-02-16 10:13:44
Visit at Hidden Bench